The Vetriver Grand Mall is a large enclosed shopping mall in the City of Vetriver in Senja.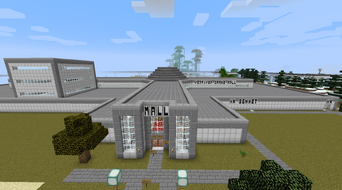 It is currently the largest building, in terms of square blocks in the Etchnion Sector. It has opened but not all stores have completed moving into the spaces yet. It has almost all of its retail spaces to be leased. It is anchored by 3 stores, HK Bennet , Sheild's, and Fresh Market.
The idea of a large shopping mall in the Vetriver area was thrown up a few months after the completion of the Vertical Shops of Vetriver, a somewhat mall shopping building with four retail spaces next to the Avas Hotel and Convention Center. The idea was kept on hold until the city expanded out farther as they didn't want to build to close to the Vertical Shops . Now that the city has expanded to the neighbourhood of Dempster the idea was put back into play.
Construction of the mall started several months after initial planning, and waiting for the city of Vetriver to expand further west. Once the neighbourhood of Dempster finially hit its edge, the neighbourhood of Lake Park was formed, in which the mall would be built. Goldwinn St was then expanded further west past the site, as well as the Route 1 Expressway South extension was completed, the area was prepped for construction. 
The building took several months to complete. The building was built and designed by the VazDrae Corporation, but is owned Ignas Properties of Vetriver. It has four corridors, three anchor stores, and an office tower. The office tower suites were later added onto the design to hold space for offices to lease, as well as the offices for the mall. 
The mall is almost near completion. It is open to the public, however, not all the features are available yet. A large number of tenants are still moving in and setting up. As well as the anchor stores are completing yet. HK Bennet is nearing 95% completion. 
Store Listing
Edit
Decor & More!
The Armoury
Avant Wireless Store
Jon's Records
Sigmund Chests
Sector Express Ship Centre
Paint Me!
BookNook
Shield's
Brenan's Resale
The Red Shoppe
Demont's Jewlry 
The Element Store
Munchie's NomShop
The Consession Stand
JukeBox Hero
The Plant Place
Fresh Market
Vetriver Public Libraries - Lake Park Branch
Blair's Supply
Great Aberdeen Bank