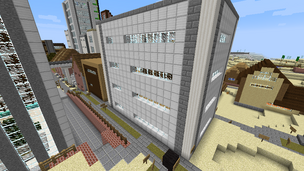 The 
Vertical Shops of Vetriver
is an
enclosed shopping center in the
City of Vetriver
. It was built shortly after the completion of the
Avas Hotel and Convention Center
, in which it was built right next to, in a prime area to attract customers. 
During the construction of the Avas Hotel & Convention Center, two mains nearby roads were expanded further west, Harmony Ave, and Goldwinn St. This created a few lots right across the street from the hotel. The first business to go up was a restaurant, in attempt to capture hungry hotel guests and convention go-ers. After the construction of the restaurant another block was created, and thus purchased for the future site of the Vetriver Vertical Shops. With the same intention of the next-door restaurant to take advantage of the crowd at the hotel, and to serve as a local shopping hub for the city.
The lot wasn't to large, so it was designed upwards, with one retail space per floor. It was almost nearly completed with four floors with four retail spaces when the company, Image Properties, almost went bankrupt from the project, so the mall sat vacant for a few months, until it was completed a bit later. The construction was then completed and it opened with three stores on day one.
Despite initial finical issues, the shopping center has been a big success, with it being the only major enclosed shopping mall in the Senja and Reyida area. All four retail spaces were shortly filled. This even created a few franchise's first stores. Such as Decor and More!, and Book Nook.
With the announcement of the potential
Vetriver Grand Mall
, the Vertical Shops owners have become worried. The up-and-coming mall's owner says they planned to not to be to close to the Vertical Shops in respect of their business.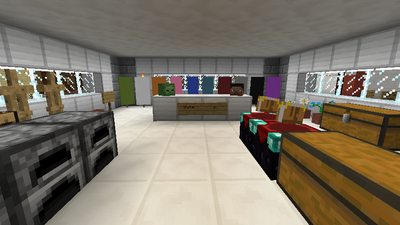 The Vertical Shops has four retail spaces, with three current occupants.
Decor and More! - 1st Floor
Book Nook - 2nd Floor
Grindle's - 3rd Floor
Foodtopia - 4th Floor
Shopping Boom
Edit
The creation of the Vertical Shops is often credited to the start of the "Shopping Boom" in Vetriver, which eventually spread to every city and village in Etchnion.
Before the Vertical Shops there was a few retail locations around Etchnion. All of them small standalone stores, or small shops on the bottom floor of a two-story complex. It wasn't until the Vertical Shops's plan of multiple units in one building idea, or "mall" plan did shopping really take off once stores moved in.
The Vertical Shops also created some of the first locations of large shopping chains, such as Decor & More!, and BookNook.