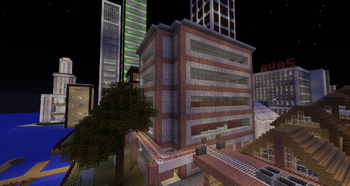 The City Tower is a high-rise commercial office tower located in the Berkley Neighbourhood of Vetriver, though it is considered part of Downtown Vetriver. It is home to many companies as well as retail on the first floor. 
The block that The City Tower currently sits at was original a few residential lots in Berkley. The idea of a mixed office tower with the first floor having external retail locations was brought up, and those lots were decided to be a prime location. The houses on those lots were relocated at no cost to its owners to wherever in the city they wanted. The homes ended up being moved to the Lake Park Neighbourhood.
VDC then designed and built the 5-story building. The building stands at 25 bl tall.
The building has 4 large office suites on the second-fifth floors. Their are 4 retail locations on the exterior of the building as well.
The building serves a large number of companies and customers through its offices and retail spaces, and because of its proximity to the Downtown VTA Station, it has become a major hub in the downtown Vetriver area.
Retail
Office
STE 200- Emmet Laboratories, Inc.
STE 300- Sector Express Corporation
STE 400- Vetriver Property Management
STE 500- Vetriver Transit Authority (VTA)