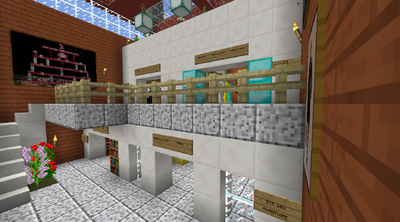 The
Adrian Centre Shops
is a small enclosed shopping mall within the
Village of Adrian
in the District of Reyida. It is owned by
VDC Properties
and was part of the Adrian Restoration Plan. The building was once a former factory/plant. It is located at 4403 Main St. in Adrian, RYN.
The building that the Adrian Centre Shops is in was formerly known as the "Big Brown Building" by locals, as it was a large factory building that was a brown colour. It was built by Billy Works as housed their construction line there. When Billy Works went out of business they left the large ugly building vacant right in the center of town for several years.
Recently, however, as part of a project to help restore Adrian back into an attractive town the property was actioned off, and was bought by the VazDrae Corporation. VDC's initial ideas were to convert it into an office building or apartments. These ideas were scraped, and then the idea of a small enclosed shopping center was brought up. This idea was skeptical at first as locals thought business wouldn't move in. However VDC went thought with the idea and promised to pull in business.
The first stage was to re-do the entire exterior. The brown was removed and re-sided with an orange tinted wood finish, with red trimmings along the corners of the building. The entire roof was removed and replaced with an open glass roof, with red cross beams. The interior was gutted and new flooring was installed, with granite floors, and marble walls for the store separators. The mall has two floors and four retail spaces were installed.
At the mall's opening VDC was able to get one retailer immediately, as they were looking to build a store there anyways. The mall opened right away with an Avant Wireless Store. Shortly after a Decor & More was opened on the second floor. After that, two spaces remained available for a little while.
Now, though, the two spaces have been filled, making the mall at 100% occupancy. A BookNook opened next to the Avant Store, and then Bernard's open on the second floor.
The Village is very happy with what has been done here, and has brought in new businesses as well as the village has seen a spark in residences.
Avant Wirless Store
BookNook
Decor & More!
Bernard's - Armoury & Record Store