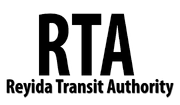 The
Reyida Transit Authority (RTA)
is the transportation management group behind the transit network in the District of Reyida. It manages the roadway network and the RTA Subway system there. The RTA also manages the Reyida Department of Transportation as a division of RTA.
The Reyida Transit Authority was first established as the "Centura Subway". The subway was constructed from the "Spawn Island" just south of Downtown Centura right to downtown Centura. It was then expanded to another station in Woodcrest.
Shortly after this subway system expanded further out of the City of Centra, and created other stops in further villages. The Helvalon Station was created next, and following that was the Addison Station.
The RTA then later look charge of all transportation networks in the Reyida District, having a division for the Reyida Department of Transportation, maintaining road networks.
Subway Stations
Edit
Spawn Island
Centura Central
Woodcrest
Helvalon
Addison
Adrian
Purple Line And System Renovation
Edit
The most recent additions to the system have been the Purple Line, and the entire system renovation. All subway tubes where resurfaced in iron, and new lighting systems installed as well as subway stations were all re-done, to bring it a more modern and welcoming look. With all this was the construction of the Purple Line, which runs from Helvalon to Adrian. With the Purple Line, the main line (from Spawn Island to Addison) was renamed the Blue Line.
System Map
Edit
(Not yet shown is the Purple Line.)