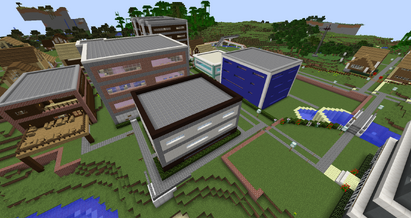 The Research Towers are a series of mid to high rise multi-use buildings located within Commack's Technology Park. There are currently three Research Towers in the park named accordingly; One Research, Two Research, and Three Research. One and Two are both located on VazDrae Dr, and the Third tower is on Croydon Parkway. They are owned and managed by Greystone Properties. More are currently planned in the future.
The Commack Technology Park came into fruition with the creation of the new VDC Headquarters campus in the area. VDC zoned the land in the area surrounding their headquarters, in cooperation with the City of Commack, for mixed commercial offices, with the intentions of research labs moving into the office spaces. The first lot, located at 954 VazDrae Dr. was then sold to Mark Greystone and constructed the first three-story building. It included 6 office like suites, but with space and hookups for laboratory equipment. This attracted many biotech firms into the first building. The new idea took off and Mark Greystone set up his company Greystone Properties and began work on Two Research Tower, located next door at 966 VazDrae Dr.
Two Research Tower was designed much bigger. With an additional floor and taller ceilings. With this it attracted the choice location for the Commack Medical Centre, which takes up all of the second floor, and some of the first and third floors.
Recently completed was Three Research Tower. This was was constructed on the other side of VazDrae Dr, but because of how the land is, it is actually located on Croydon Parkway.
Greystone Properties says Four and Five Research Towers are planned, however that will depend on demand and space, so they're a possibility in the future.
Some major tenants to the Research Towers include:
Clarion Biotech, Inc.
Airion Labratories
Bryn Medical Labs
Commack Medical Centre
Garrison Research Labs
Blair Potion Supply Labs and Offices
Greystone Properties, Inc.