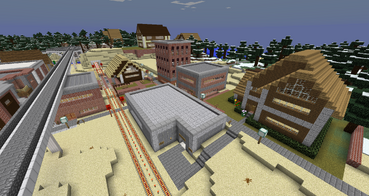 Dousman Centre was a former unincorporated community in the District of Senja. It was annexed by The City of Vetriver, and now serves as the community centre of the Dousman Neighbourhood.
When Vetriver was a very small village, with a few homes and businesses, Dousman Centre was formed by the citizens that lived further west of Vetriver. It was known as the center to meet for all the rural residents in the area. It was named after longtime resident Kenny Dousman who settled on the area long ago. It had a crossroads and thats is where they built a few shops. The settlement was always too small to incorporate as a village, and when Vetriver grew into the area, the land was annexed by the city, however the neighbourhood was named after it. A few of the older buildings remain in the "Downtown" of Dousman.
Today a VTA Train Station and a few more stores are in the downtown section.