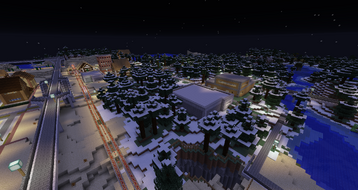 Dousman is a neighbourhood of The City of Vetriver. It is the most recent addition to the neighbourhoods of Vetriver. Dousmans features a VTA Station, the Vetriver Industrial Park, and Gracie Park to name a few.
The area of Dousman was first considered for the establishment of a neighbourhood back when Lake Park expanded west for the development of the Vetriver Grand Mall, and again when The Village of Commack was annexed as a suburb. At those moments though the city voted against adopting this land into the City of Vetriver and waited until the Neighbourhood of Lake Park filled and expanded more.
Lake Park then started growing and more and more residence were built in the neighbourhood along its theoretical border at the time. Thus came the establishment of Dousman. Dousman was named after Talbot Dousman, a long time Vetriver citizen, and predominate activist among the development and expansion of the city.
Dousman was recently established and is officially apart of the Vetriver Neighbourhood Association (VNA), as well it includes the establishment of the Dousman Neighbourhood Association (DNA).
Dousman is still growing, but contains some larger homes, as well as a small city centre. At the centre is a business tower, and some retail, including the Neighbourhood Association offices. The newly created Vetriver Industrial Park is within the neighbourhood, with current companies such as Errin Transit Manufacturing Corporation, and Raymond Distributions. Gracie Park is also in Dousman, The City of Vetriver's largest city park.
Dousman's terrain will be different than most of the current City of Vetriver, as most of the city is situated on desert plains and hills with some neighbourhoods having little other types of terrain. Dousman is different as it is situated on the majority of tundra land. This will make for a little bit of a challenge when building and developing in Dousman.
Ad blocker interference detected!
Wikia is a free-to-use site that makes money from advertising. We have a modified experience for viewers using ad blockers

Wikia is not accessible if you've made further modifications. Remove the custom ad blocker rule(s) and the page will load as expected.